Basic guide to the three cruise terminals in Cozumel (Mexico): which ships dock where or anchor in the most popular cruise port in the Caribbean.
Most travelers cruising to Cozumel for the first time do not realize immediately that the cruise ship will be docked at one of many piers.
By contrast, frequent cruisers that have repeatedly docked in Cozumel tend to think that the terminals (and even the piers) are unquestionably designated for specific cruise lines. But, in reality, this is not an immutable fact.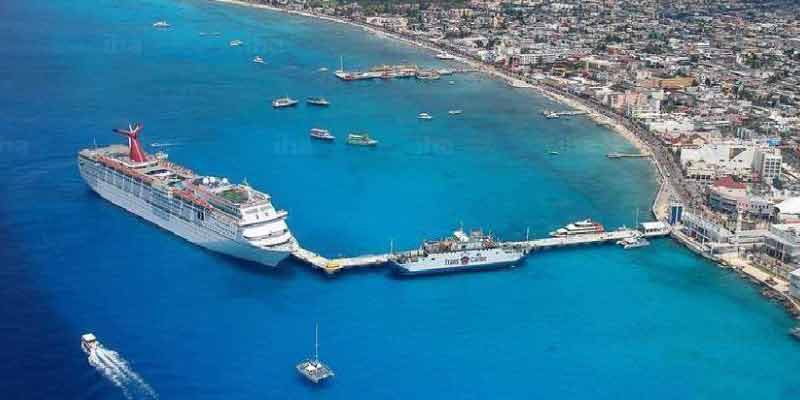 Punta Langosta - Cozumel
Photo - Public Domain
For instance, many a seasoned cruiser will swear that Carnival cruise ships dock exclusively at the Puerta Maya and that Royal Caribbean (and Celebrity ships) only dock at the International Cruise Terminal. As much as this is true (most of the time), the Editor has been on Carnival ships docking at the International Terminal. And, as shown in the photo above, Carnival ships may also dock at the Punta Langosta Terminal.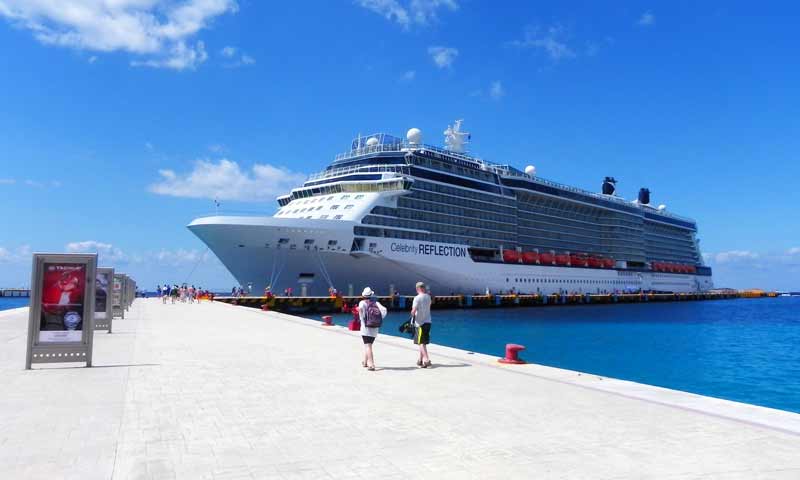 International Terminal - Cozumel
Photo © IQCruising.com
Although it is not always possible to determine ahead of time what will be the pier (and Terminal) where cruise ships will dock, there are a few guidelines that may help the cruise traveler to plan what to do and see in Cozumel regardless of where ships moor.
The Three Terminals in Cozumel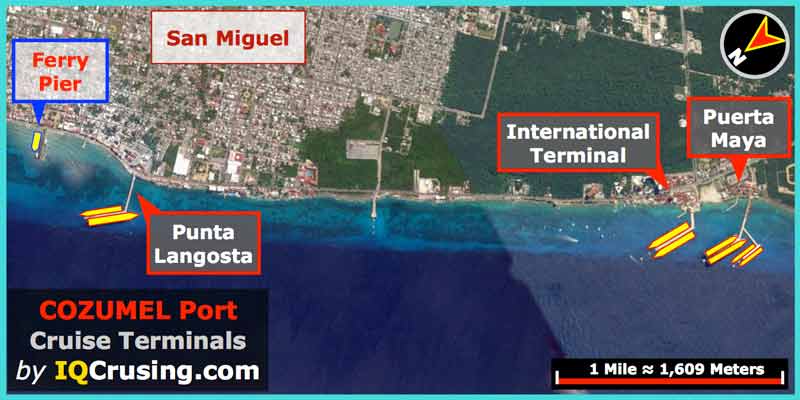 As you can see on the map above, there are 3 Cruise Terminals in Cozumel. The terminal in Punta Langosta is right by San Miguel's southern end and only has one pier. Likewise, the International Terminal only has one main pier and a smaller one for tender boats. Puerta Maya with two piers is the largest.
Puerta Maya and International Terminal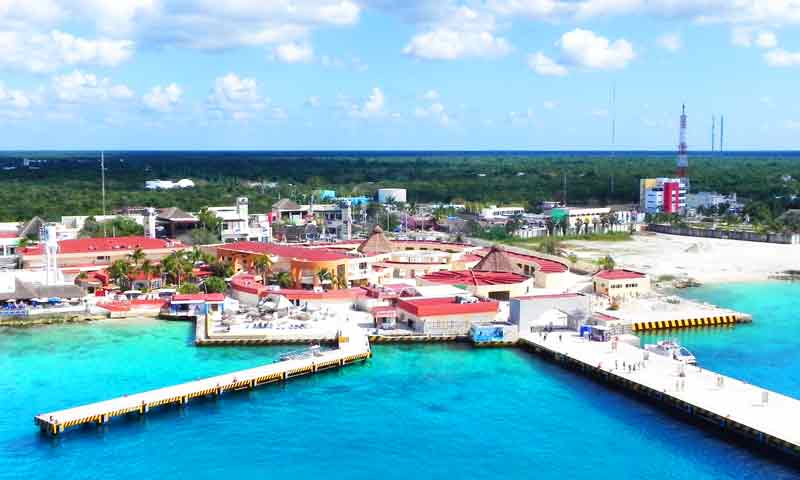 International Terminal - Cozumel
Photo © IQCruising.com
The Puerta Maya Terminal and the International Cruise Terminal are very close to each other - the entrances are no more than 1,500 feet (500 meters) apart. Both terminals are around 3 miles south of San Miguel, the main city of Cozumel.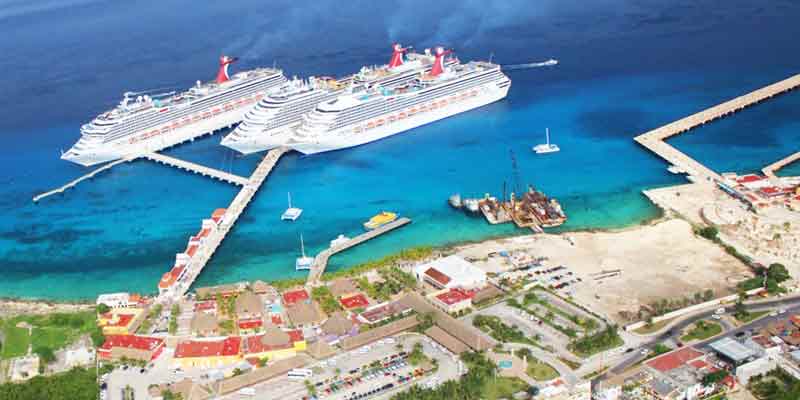 Do not be confused by the pier between the International Terminal and Punta Langosta. This pier is used exclusively by ferries transporting cars and trucks to Playa del Carmen. The pier for the passenger ferry to Playa del Carmen is located in the heart of San Miguel.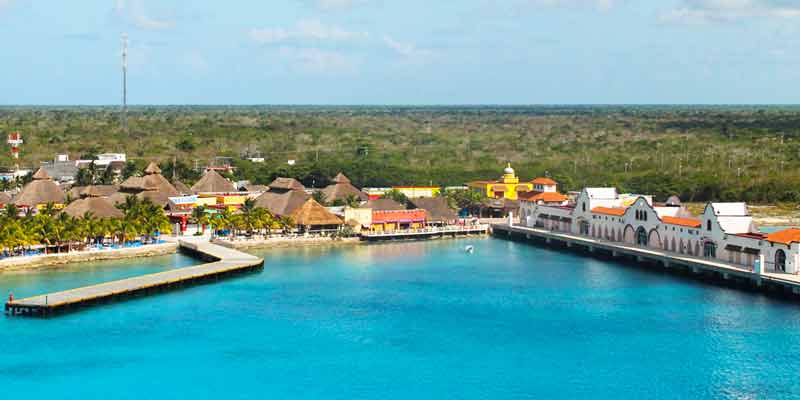 Puerta Maya - Cozumel
Photo - Public Domain
As a rule of thumb, Carnival Corporation cruise ships (Carnival, Princess, P&O, Costa and so on) dock at the Puerta Maya Terminal. But, exceptionally, Holland & America cruise ships usually dock at Punta Langosta. Generally speaking, Royal Caribbean and Celebrity cruise ships will dock at the International Cruise Terminal.
► Explore: Puerta Maya Terminal in Depth
Basic Info, ATMs, Restrooms, Taxis, Shore Excursions, Shopping, Car and Scooter Rental, Restaurants, Bars, Grills and What's Nearby.
Learn More ►
Punta Langosta cruise terminal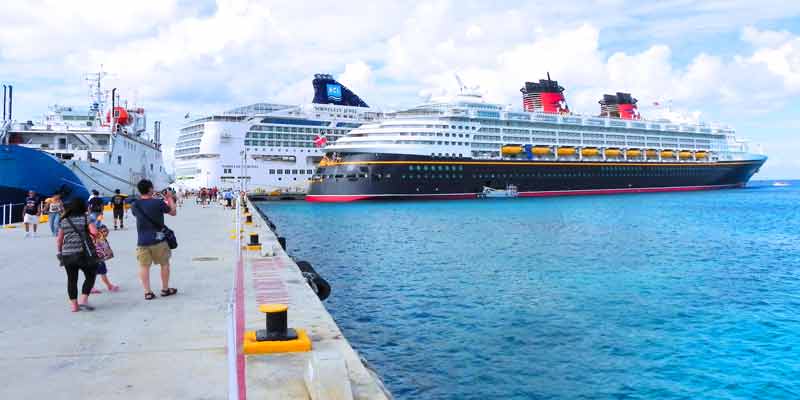 Punta Langosta - Cozumel
Photo © IQCruising.com
All other cruise lines will dock at Punta Langosta. If you are cruising on ships of cruise lines such as NCL, Disney, Oceania, Silversea, Regent or Crystal it is almost guaranteed that your ship will moor at Punta Langosta. But always keep in mind that this is not an immutable fact.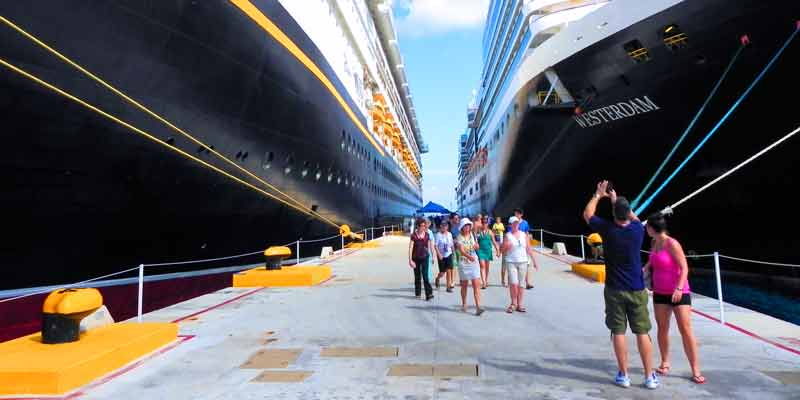 Punta Langosta - Cozumel
Photo © IQCruising.com
Anchoring and Tenders in Cozumel Cruise Port
Finally, a word about anchoring and tender boats. At the height of the Caribbean Season - between November and March, in particular - the port of Cozumel may be visited by over 8 cruise ships.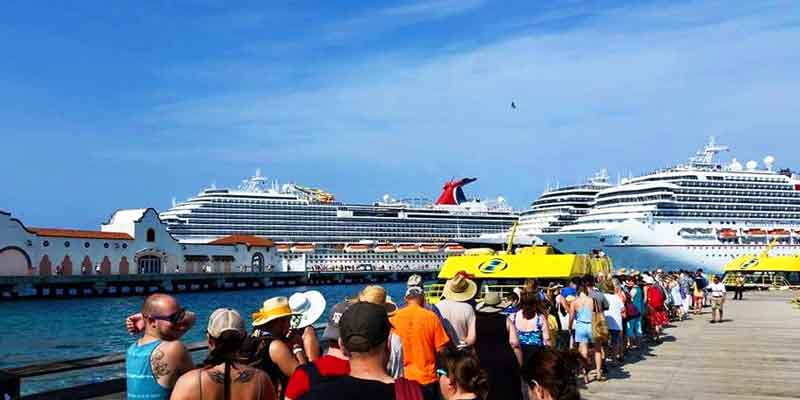 When this happens, cruise ships will anchor close to both the Puerta Maya and the International Cruise Terminals and passengers will be tendered by local boats to adjacent, smaller piers on one of the terminals. These piers may also be used for shore excursions.
More Cozumel Reviews