Ultimate port guide and review of the Puerta Maya cruise terminal in Cozumel: all services and amenities, shore excursions, shopping, car and scooter rental, restaurants, bars, grills, and everything nearb.
The largest of the three terminals in Cozumel, Puerta Maya has two main piers where up to 4 ships can dock. Puerta Maya also has a smaller pier used mainly for excursions and for tender boats when cruise ships anchor.
Puerta Maya is a wonderful open-air terminal. Many cruise travelers enjoy walking around to explore its shops, bars, grills, and restaurants, before or after a shore excursion. Or just enjoy a drink in the shade on the sandy relaxing area of the terminal. Even if you are not planning to discover any of the top highlights of the island, do not stay onboard and do go out to explore Puerta Maya Cruise Terminal.
The Puerta Maya Terminal is where most cruise lines owned by Carnival Corporation usually dock. If you cruise on lines like Carnival, Princess or Cunard this is, most probably, where your ship will dock. However, Holland America and Seabourn (also owned by Carnival Corporation) normally dock at Punta Langosta. As much as this is a rule of thumb, in very rare situations Carnival ships may dock at any of the two other ports. Read More About Where and What Cruise Lines Dock in Cozumel.
Where is the Puerta Maya cruise terminal
Located on the West coast of the island of Cozumel, right in the middle, Puerta Maya is around x miles south of San Miguel (the main town of the island) which is easily and affordably accessible by taxi - more about taxis below. On the coast south of Puerta Maya, the cruise traveler will find most of the best beaches, beach clubs, hotels and resorts in Cozumel, all at a reasonable distance.
Puerta Maya Services and Amenities
Puerta Maya Terminal, Tourism Office - Cozumel
Photo © IQCruising.com
Besides shops, bars, grills, and restaurants, you will find all basic amenities and services in Puerta Maya: Wi-Fi and Phones, Restrooms, ATMs, Tourist Information, Car and Scooter Rental, Taxis. Within walking distance, there are also a couple of places that may be of interest, namely a couple of resorts offering day passes, two shopping centers and recently developed plaza with grills, coffee shops and souvenir shops.
Tourist Information Kiosk-Office
Cruisers that which to find more about Cozumel, that want to double check information or that would like to book a last minute shore excursion, will find a Tourist Information Kiosk centrally located at the terminal. This is also the best place to pick up a map.
Money Matters - Currency, ATM and Exchange Offices
There are a few ATMs around the open air terminal. All these ATMs dispense US$ dollars and are pretty much safe to use. Although the official currency and legal tender is the Mexican Peso (MXN), the US dollar is widely accepted absolutely everywhere. In very, very rare situations you may eventually get the change in pesos.
Pharmacies and Health Issues
The pharmacies of Cozumel are famous but in case of an emergency the island is also known for having a good hospital close to the Puerta Maya.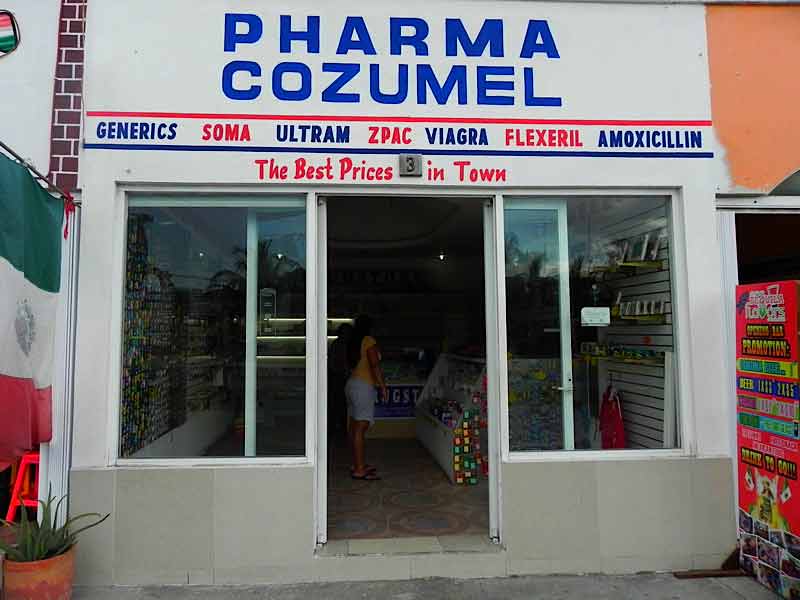 Pharmacy in Puerta Maya Terminal
Photo © IQCruising.com
For other minor health issues, there a couple of Pharmacies in the Puerta Maya Terminal and also nearby outside the terminal within walking distance. In fact, the pharmacies in Mexico, and Cozumel, in particular, are famous for selling over the counter medication that elsewhere require prescriptions. Naturally, pharmacies take advantage of these and promote the sale of Amoxiline, Zpac, Viagra, Cialis among others.
Keep in Touch: Phones, Wi-Fi and Post Office.
Considering the prices of Wi-Fi Internet onboard cruise ships, you may want to take advantage of the fact that there are a few places to get free Wi-Fi in Puerta Maya.
Coconut Lounge Grill (Puerta Maya Terminal) - Cozumel
Photo © IQCruising.com
As phone providers in the US, Canada, and Europe have expanded international coverage, phone boots are a 'species in extinction' and although you may find a couple still working in the Terminal, the reality is that the best way to get in touch with family and friends is with a Wi-Fi Internet connection. Most bars, grills, and restaurants offer Free Wi-Fi and some, like the Coconut Lounge, have absolutely stunning locations. The closest Post Office to Puerta May is located in San Miguel.
Sightseeing
Cruise Travelers that enjoy sightseeing will have to walk outside the Terminal, where you may find Horse Carriage Tours. However, as mentioned before, besides a couple of attractions within walking distance, you should be aware that there isn't much to sightsee close by. Basically, you will just enjoy the Horse Carriage ride.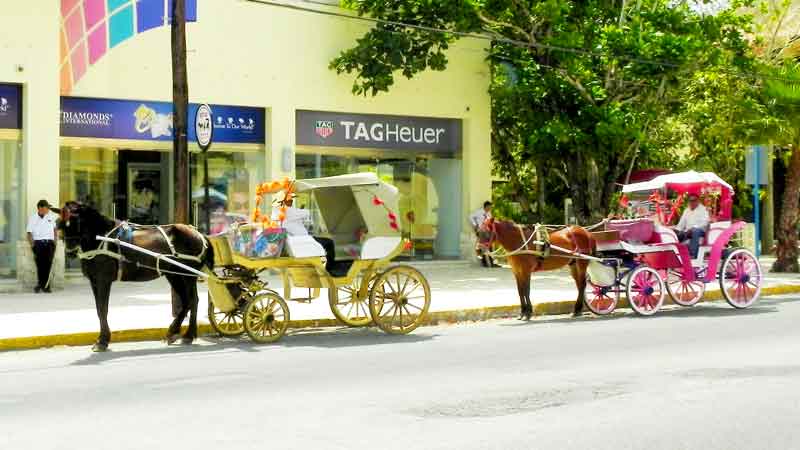 Sightseeing (Outside the Terminal)
Photo © IQCruising.com
Shore Excursions - Shorex, Local Tour Operators
With very few exceptions, Cozumel top highlights are all relatively close by Puerta Maya and are easy to explore on your own. The exceptions are the archaeological site of Tulum, the Xcaret Park and Playa del Carmen, which are all located on the mainland. When planning to explore any of these sites it is advisable to book a shore excursion either with your cruise line, with local guides or with the many online services that offer shore excursions in Cozumel.
Cruise Line Shorex Buses
If you are booked on a shore excursion, there will be cruise line staff guiding excursionists to the tour buses that will be parked close to the exit of the terminal.
Local Tour Operator
There are too many local tour operators in Cozumel to mention all on this review. Although IQCruising doesn't not in any way endorse any business and is not affiliated with any, both Cozumel Cruise Excursions and Tours By Locals have received excellent reviews. Always make sure, when booked with Independent Local Operators, to clearly establish the meeting point. Most probably, in the large covered area just before exiting the terminal where you will also find taxis and the cruise Shorex buses.
Online Excursion Bookings
In recent years, many independent Shore Excursion Services have become available online. Naturally, considering the popularity of Cozumel as a Cruise Port, there many offering all sorts of excursions in the island. The following are worth some basic research: Viator, Shore Trips, Shore Excursions Group and Shore Excursioneer. It must be noted that none of these are endorsed of affiliated with IQCruising.
Explore on Your Own
What Can be explored on Your Own.
Unless Playa del Carmen, the Xcaret Park or archaeological sites like Chichén Itzá or Tulum are on your bucket list all other attractions of Cozumel are pretty easy to be explored on your own by taxi, renting a scooter or a car.
There are only a few attractions within walking distance of Puerta Maya (two resorts and two shopping areas). To explore any of these on foot is perfectly safe. Unlike it happens in many other ports, locals will not be harassing you.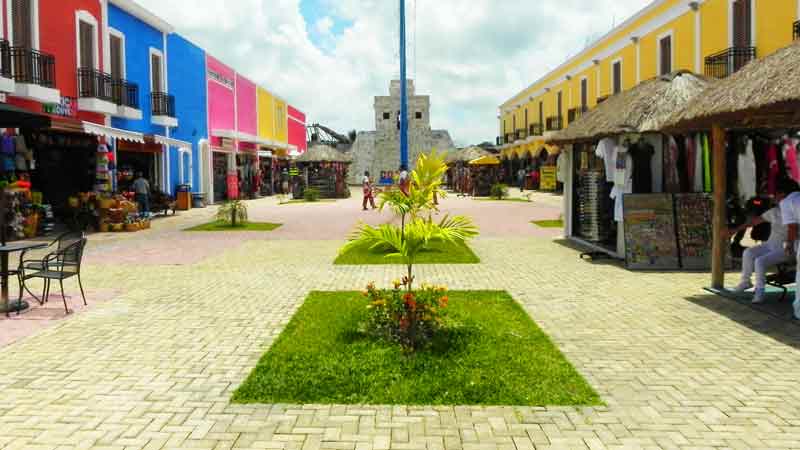 Mayan Plaza (Outside the Terminal)
Photo © IQCruising.com
Solo cruisers may find that traveling on your own may not be much cheaper than an organized excursion, but a couple and, certainly, a group or a family will save quite some good money. Above all, you will be in charge of your own time and, as already mentioned, perfectly safe.
The beaches, water parks and all-inclusive resorts of Cozumel are amongst the Top Highlights of the island and most are very close - between 2.5 miles (4 km) and 22 miles (36 km) - to Puerta Maya Terminal. San Miguel (the main town in the Island) is 3 miles (5 km) north of Puerta Maya. San Gervasio, a small Mayan archaeological site, is just 12 miles (19 km) north of the Terminal. Even the farthest attraction in the island - Punta Sur Park - is no more than 17 miles (27 km) away.
Taxis
Most cruise travelers that have been in Cozumel have had the best experience with taxis. These are affordable, clean, with AC, easy to find and arguably the most convenient way to travel around in Cozumel.
Taxi Fares in Puerta Maya Terminal
Photo © IQCruising.com
The cruise traveler planning to explore the any of Top Things To See and Do of Cozumel on your own, or independently, will find a taxi stand at the exit of the Puerta Maya Terminal. Taxi rates are clearly indicated and literally include rides (and rates) to every possible destination. Although rates are clearly indicated, it should be emphasized that prices displayed are per cab - not per person - and depend on the occupancy.
Natural and inevitably, solo cruisers should be prepared to pay more. For example, a ride to San Miguel Downtown will cost US$ 8.00 but the same ride for 5 passengers will cost US$ 12.00. It doesn't take a genius to figure out that you should look into joining a group. It must be noted that the taxi service in Cozumel is particularly cost-efficient for cruise travelers wishing to spend a day on a beach-club, resort or park. Discover the Best Beach Day-Passes in Cozumel.
Car and Scooter Rental
Renting a scooter, a car or an ATV is really the true way of exploring Cozumel on your own.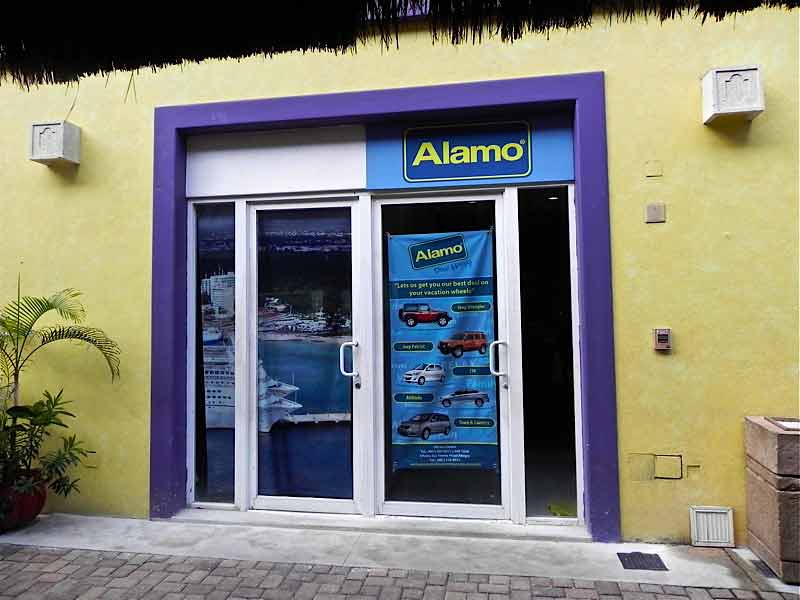 Car Rental in Puerta Maya Terminal
Photo © IQCruising.com
This is the best way to travel around Cozumel if you wish to go to lesser known and off the beaten track areas like the beaches on east-north coast but also to the archaeological site of San Gervasio, El Caracol or the Punta Sur Park. You can rent a car or a scooter right on Puerta Maya Terminal or within walking distance with ATV Rental, Budget or Ernestos Rental among other.
Eat and Drink - Bars, Grills, Coffee Shops and Restaurants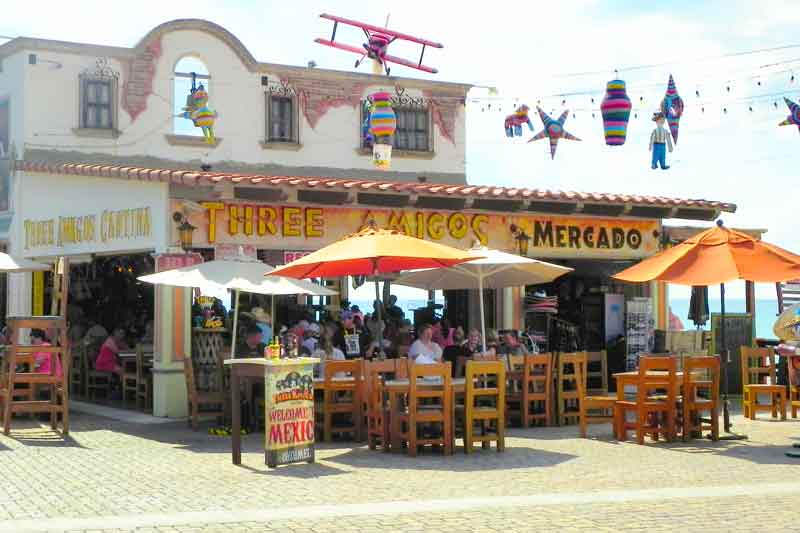 Three Amigos Cantina (Puerta Maya Terminal) - Cozumel
Photo © IQCruising.com
The Puerta Maya Terminal is known for its bars, grills and restaurants. The famous Three Amigos Cantina is one of the most popular, Fat Tuesday is another popular venue and if you wish to taste genuine (and the best) Mexican food at the Terminal the Pancho's Backyard is highly praised. For a coffee and quick bite, the Puerta Maya has the best coffee shop in Mexico - Punta Del Cielo. To have a drink with the nicest setting, the Coconut Lounge Bar is just perfect.
Duty Free Shopping: Shops and Best Deals
Cozumel is known as a shopper's paradise (or nightmare for many a husband). Like every else in the Caribbean, jewelry and watches are predominant. However, like in Costa Maya, you will find that tobacco and spirits have the absolute best prices anywhere in the Caribbean (only comparable with St. Martin). Undoubtedly the best cruise port for shopping in the Western Caribbean, Cozumel has an amazing number of shops and in Puerta Maya Terminal you will find almost all the top names usually found in the Caribbean.
Unique Shops Only Found in Cozumel
Los Cinco Soles Shop (Puerta Maya Terminal) - Cozumel
Photo © IQCruising.com
Among the many shops in Puerta Maya you will also find some stores that are exclusively Mexican. Most of them also have stores in San Miguel, where there are even more shops than at the Terminal, but when shopping for many genuine Mexican products you really do not have to get on a taxi to San Miguel. At Puerta Maya, you find typical Mexican products in shops like Veari, Rogers Boots, Silver Emporio, Silver Traditions, Touch of Gold or Panama Jack. Los Cinco Soles is a shop that deserves to be highlighted as it sells some of the best products in Mexico ranging from of vanilla to ceramics, interior decorations, and local crafts. Prices in Los Cinco Soles may be a bit steeper than elsewhere but the quality is certainly much better.
Cigarettes, Cuban Cigars and Spirits
Considering that tobacco and spirits in Mexico have the best prices in the Western Caribbean, cruise travelers must not skip this opportunity. Cigars (in particular Cuban puros) are a bargain, a carton of cigarettes is sold for around US$24.00 (depending on the brands) and spirits are sold for 20% to 30% less than what you would pay in the United States.
Local Crafts and Flavors, Gifts and Souvenirs
Stores like Fiesta Maya, Mayan Fiesta and the already mentioned Los Cinco Soles sell all types of traditional local crafts, gifts and typical souvenirs like magnets, t-shirts, sombreros but also rum cakes, hot sauces, spices, coffee and genuine Mexican vanilla. You will also find many small kiosks scattered all over the terminal selling these type of souvenirs.
Duty Free - Watches, Fine Jewelery
Effy Shop (Puerta Maya Terminal) - Cozumel
Photo © IQCruising.com
Shopping for Jewelry and high-end Watches, many times referred to as Time Pieces, in Cozumel is known to be among the top 5 in the Caribbean. This due to the fact that the prices are lower than almost everywhere else and that Cozumel has more shops than most islands in the Caribbean. Naturally, at Puerta Maya, you will find top names such as Diamonds International (with 5 shops), Effy, Colombian Emeralds, Tanzanite International, Milano or Mark Henry.
The Brands and Haggling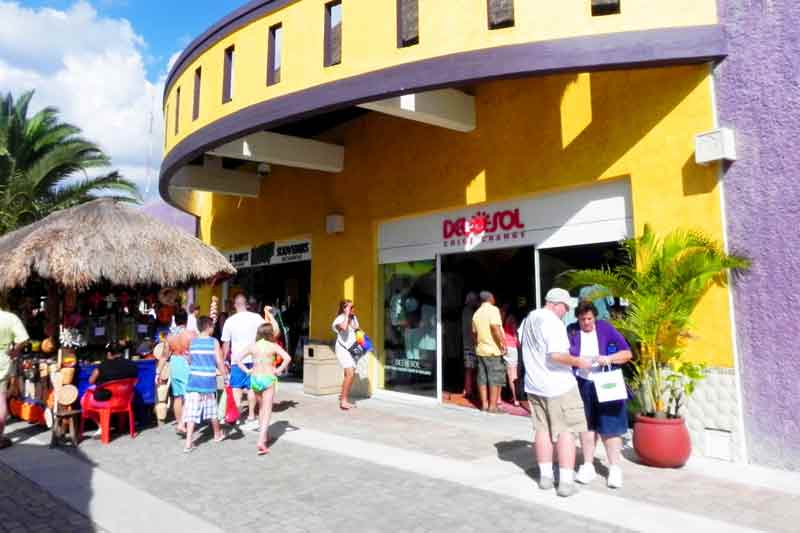 Shops (Puerta Maya Terminal) - Cozumel
Photo © IQCruising.com
Cruise travelers will also find more affordable brands like Pandora, Alex and Ani, Ron Jon Surf Shop, Cariloha or Del Sol. Products are offered at these shops with good discounts but haggling will not take you far. However, when shopping for Jewelry and Watches in the ubiquitous shops that you will find everywhere in the Caribbean, haggling is a must. Asking prices may be slightly lower than on other islands but you may get a really great deal if you are willing to bargain, haggle, walk out of the shop just to be followed by a 'manager' and asked back inside for another extra discount. Cruise travelers that enjoy that sort of game may, at the end of the day, save some good money.
What's Nearby - Within Walking Distance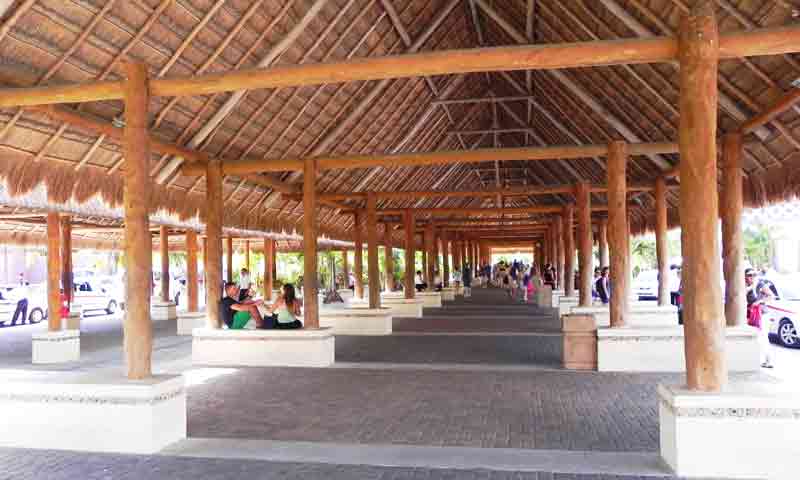 Palapa (Puerta Maya Terminal) - Cozumel
Photo © IQCruising.com
Outside the Terminal, after a humongous palapa, you will be on a wide road. To the right (south) there isn't much to see within walking distance unless you get in a taxi as all major beaches and beach clubs are located on the south coast. To the left (north) there are a couple of attractions and tourist services that may be of interest, and farther north you will be in San Miguel - the main city of Cozumel, 3 miles (5 km) - but not really within walking distance.
Mayan Pyramid Replica (Outside the Terminal)
Photo © IQCruising.com
Right in front of Puerta Maya, across the street, there is a small Shopping Mall popular with crew and staff. If you walk north, passing Subway and a gas station there is a recently developed new plaza (Mayan Plaza) with shops, restaurants, Mirado - a very nice coffee shop (with Wi-Fi) - an inevitable pharmacy, and a replica of a Mayan pyramid for photo ops. Around 500 feet (100 meters) farther, cruisers will be at the Royal Village Shopping Center.
The Royal Village is very nicely designed, has had its ups and downs but never really become a very popular venue. This is where Hard Rock Cafe is located amongst a handful of shops with well known brands like Diamonds International and an excellent coffee shop - Punta Del Cielo. The Royal Village is right in front of the International Terminal, where usually Royal Caribbean and Celebrity cruise ships dock. Find Out Where and What Cruise Lines Dock in The Three Cruise Terminals of Cozumel.
Royal Village Shopping (Outside the Terminal)
Photo © IQCruising.com
On the left side of the road, after the International Terminal, is the entrance to El Cid La Ceiba, a resort-hotel offering day-passes for Cruise Travelers. On a small block after El Cid, there are a a few stores - Cigars, Thrifty Car Rental and Sol y Mar Scooter Rental. Another 300 feet (150 meters) farther, the Park Royal is another resort offering Day-Passes. Both El Cid and Park Royal are less than 1/2 mile (700 meters) from Puerta Maya. Discover The Hotels, Resorts and Beach Clubs Offering Day-Passes in Cozumel.
After Park Royal, you will see the Atlantis Submarine Tours on the left - don't think you can just walking in for a tour as you may be required to book excursions directly with your cruise line. Just before Atlantis it is easy to miss Scuba Shack which offers excellent dives. After Atlantis, Tikila Bar on the left is a great place to have a refreshing drink, lunch or a quick bite, and you may even go for a scuba dive organized by the Dive Boutique next door.
Just a bit farther, Harley Davidson Rental is on the right and on the same block there a couple of excellent diving shops - Island Divers and Beach Bum. Farther still, there a few other diving spots with small but nice grills-bars by the sea. However, you really need to be a serious walker to get to off-the-beaten-track places with amazing beach settings such as the Sunset Bar, Turquoise Beach Bar or Blue Angel Resort (almost 1 mile from Puerta Maya).
Amenities in Puerta Maya at A Glance
WHAT

AT THE TERMINAL
Tourist Information Booth

Yes

ATM

Yes

Restrooms

Yes

Shuttle Bus

NO

Taxis

Yes

Car Rental

YES

Pharmacy

Yes

Wi-Fi

Yes

Restaurants

Yes

Shopping
Excellent Duty-Free Shops
Phones

YES

Post Office

No

- The Closest is in San Miguel
More Cozumel Reviews